There have been many mistakes in the movies which are not visible to the viewer at the time. After carefully going through some films here are some of the factual inaccuracies from some popular Bollywood flicks:
Let's go through the inaccuracies in recent Bollywood Movies
1. 3 Idiots [2009]
During the baby delivery scenes, supposedly taking place around 2003, both parties engaged in the video chat use Google Chrome web browser which was not released until 2008.
2. Bhaag Milkha Bhaag [2013]
The movie is set in the 1950s but when Milkha's fingerprints are taken when he is released from jail, the date written on the form has the year 2013.
The bullet shown in the pic of movie BMB is a new model, RE Classic 500 Desert Storm, wasn't available back then. 
3. Rang De Basanti [2006]
During one of the flashback sequences – set prior to 1947, the historical characters are on a roof of a building. In the distance is another large building, and, on its roof, is a large satellite dish.
4. PK [2014]
Pakistan Embassy in Belgium is located in Brussels not in Brugge.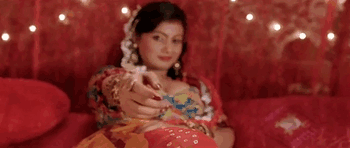 PK learns the whole vocabulary of the language from a "prostitute" but doesn't have any idea about the word "condom" which he comes across in the second part of the movie.
5. Fan [2016]
When Guarav visits Kings Cross Station he is shown showing his passport and boarding a train to Croatia. There is no border control at Kings Cross as none of the trains at that station travel outside of the UK, and trains from that station only travel north along the eastern coast of England and Scotland. There are also no trains that go directly from London to Croatia, with the furthest direct train into Europe being from St Pancras to Paris.
6. Dilwale Dulhania Le Jayenge [1995]
During the climax, the railway station where Raj and Kuljit have a fight is shown to be 'Apta' (as seen on the signboard). Apta is a small station near Mumbai and is more than 1700 km away from Punjab where the plot is based.
7. Jab Tak Hai Jaan [2012]
Meera's family owns a Rolls Royce Phantom and Buggati Veyron in 2002. However, the Phantom was launched in 2003 and Veyron in 2005.
When at the Tube station ,after the ""Ishq Shava"" song, Intel Ultrabook advertisement board could be seen behind Samar. Intel Ultrabooks were launched in 2011, so could not be there in 2002.
In a scene taking place during Samar and Meera's romance in 2002, a Mercedes Benz S-Class is parked outside Meera's house. However, that S-Class model was not available until 2007.
The Olympic rings are visible in a London railway station. The scene is set in 2002 but the Olympics were held in London in 2012, concurrent to filming, and the bid was not even decided until 2005.
8. 1920 [2008]
The movie is set in 1920 in India. However there is a scene in which one can see an electric train going across Victoria terminus, despite the fact that the electric train didn't come to India till 1925.
9. Bombay Velvet [2015]
You see a sign-board for Falkland Road in the first few minutes with the PIN code on it. Well, PIN codes did not appear in India until 1972, but the scene is of 1949.
10. Baby [2015]
Akshay hires a taxi in Kathmandu whose plate is red in color.Taxi's in Kathmandu have black and white plate.
Jet Airways flight to Kathmandu is shown to be an Airbus A380. Jet Airways as of January 2015 does not own an A380 aircraft. Morever, an airbus A380 cannot land in Kathmandu.
11. Black Friday [2004]
When the car enters BSE building, in the background, you can see the billboard of HSBC Mutual Fund, which was not launched in India in 1993. It entered India in 2002
In the shots showing Dubai almost all the cars visible on the road are post 2000 models i.e. the Mazda 6, the Toyota Corrola but the movie is based in 1993
In the scene before the first blast at the Bombay Stock Exchange, one of the extras at the right of the screen is seen wearing a soccer jersey of the club Real Madrid which says ""Beckham – 23″". This is factually incorrect because Beckham only moved to Real Madrid in 2003, while the blasts occurred in 1993
Also Read: