Morgan Freeman born June 1, 1937 is an American actor and narrator. Freeman won an Academy Award in 2005 for Best Supporting Actor with Million Dollar Baby (2004), and he has received Oscar nominations for his performances in Street Smart (1987), Driving Miss Daisy (1989), The Shawshank Redemption (1994) and Invictus (2009).


He has also won a Golden Globe Award and a Screen Actors Guild Award. Freeman has appeared in many other box office hits, including Glory (1989), Robin Hood: Prince of Thieves (1991), Seven (1995), Deep Impact (1998), The Sum of All Fears (2002), Bruce Almighty (2003), The Dark Knight Trilogy, The Lego Movie (2014), and Lucy (2014). He is known for his distinctively smooth, deep voice. He got his break as part of the cast of the 1970s children's program The Electric Company.
Morgan Freeman is ranked as the 3rd highest box office star with over $4.316 billion total box office gross, an average of $74.4 million per film.
On his 79th birthday we countdown some of the best work by Morgan Freeman
1. The Shawshank Redemption [1994]


For Morgan Freeman fans, The Shawshank Redemption is the one movie that has it all: Plenty of kindly old wisdom for his character to impart, lots of meaningful drama prompting deep sighs and knowing smiles, and — of course — Freeman's expert narration tying the whole thing together. Oh, and also? This Frank Darabont adaptation of a Stephen King short story about a wrongfully imprisoned convict (Tim Robbins) whose years in lockup aren't enough to break his indomitable spirit is also really, really good. It wasn't a huge hit during its initial release, but from its painful opening act to its triumphant closing moments, Shawshank is an acknowledged classic — and a longtime favorite for critics like Janet Maslin of the New York Times, who sighed, "Without a single riot scene or horrific effect, it tells a slow, gentle story of camaraderie and growth, with an ending that abruptly finds poetic justice in what has come before."
2. Nurse Betty [2000]

He's often called upon for roles that require kindliness, wisdom, and/or kindly wisdom, but Morgan Freeman can also be vaguely threatening when the script calls for it. Take, for example, Nurse Betty, a dark comedy from director Neil LaBute about a deluded soap opera fanatic (Renee Zellweger) who gets herself mixed up in some nasty business and ends up the unwitting target of a pair of hit men (Freeman and Chris Rock). The end result isn't Freeman's most family-friendly film by a long shot, but it all adds up to what Margaret A. McGurk of the Cincinnati Enquirer called "A highly unlikely blend of savage violence, farcical humor and impossible romantic yearning, acted out with sometimes awe-inspiring precision."
3. Batman Begins [2005]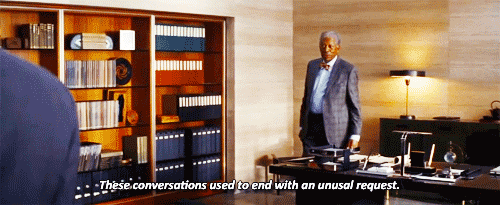 Handed the keys to the moribund Batman film franchise, director Christopher Nolan shucked off the cartoonish overtones of recent big-screen incarnations and boiled the character's mythos down to its essence, resulting in one of the most realistic superhero movies ever. Batman Begins signaled a bold new beginning for the franchise, and was a huge hit with audiences and pundits alike. "It's a wake-up call to the people who keep giving us cute capers about men in tights," wrote Kyle Smith of the New York Post. "It wipes the smirk off the face of the superhero movie."
4. Unforgiven [1992]


In a film absolutely infested with fantastic performances, Morgan Freeman still stands out as if he were made of italics. Working amongst the likes of Clint Eastwood, Gene Hackman, and Richard Harris, the man still (somehow) remains the most magnetic thing on the screen. He also stands for the small but insistent voice of reason in a world governed by ego and hatred — and he's also a heck of a lot more than an action sidekick or a simple trigger for revenge.
5. Gone Baby Gone [2007]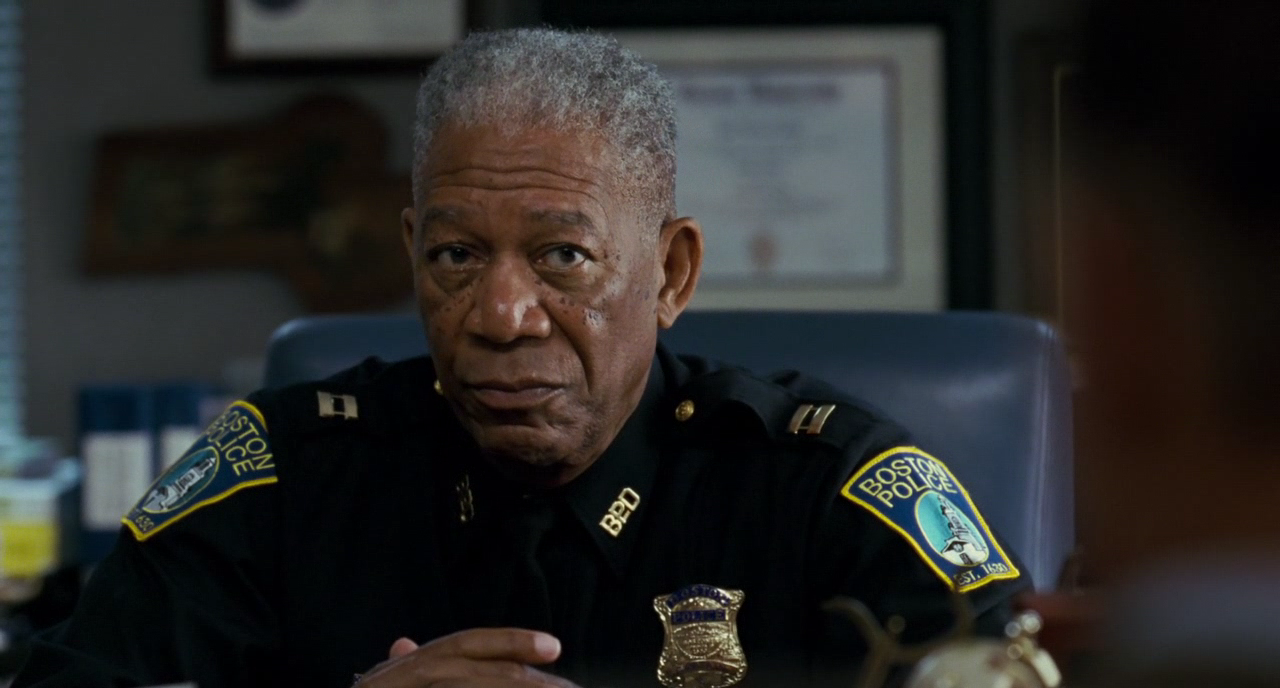 When 4 year old Amanda McCready disappears from her home and the police make little headway in solving the case, the girl's aunt Beatrice McCready hires two private detectives Patrick Kenzie and Angie Gennaro. The detectives freely admit that they have little experience with this type of case, but the family wants them for two reasons – they're not cops and they know the tough Boston neighborhood in which they all live. As the case progresses, Kenzie and Gennaro face drug dealers, gangs and pedophiles. When they are about to solve their case, they are faced with a moral dilemma that could tear them apart.
6. Glory [1989]


Shaw was an officer in the Federal Army during the American Civil War who volunteered to lead the first company of black soldiers. Shaw was forced to deal with the prejudices of both the enemy (who had orders to kill commanding officers of blacks), and of his own fellow
7. Million Dollar Baby [2007]


Wanting to learn from the best, aspiring boxer Maggie Fitzgerald wants Frankie Dunn to train her. At the outset he flatly refuses saying he has no interest in training a girl. Frankie leads a lonely existence, alienated from his only daughter and having few friends. She's rough around the edges but shows a lot of grit in the ring and he eventually relents. Maggie not only proves to be the boxer he always dreamed of having under his wing but a friend who fills the great void he's had in his life. Maggie's career skyrockets but an accident in the ring leads her to ask Frankie for one last favor.
8. Se7en [1995]


A film about two homicide detectives' (Morgan Freeman and (Brad Pitt desperate hunt for a serial killer who justifies his crimes as absolution for the world's ignorance of the Seven Deadly Sins. The movie takes us from the tortured remains of one victim to the next as the sociopathic "John Doe" sermonizes to Detectives Somerset and Mills — one sin at a time. The sin of Gluttony comes first and the murderer's terrible capacity is graphically demonstrated in the dark and subdued tones characteristic of film noir. The seasoned and cultured but jaded Somerset researches the Seven Deadly Sins in an effort to understand the killer's modus operandi while the bright but green and impulsive Detective Mills (Pitt) scoffs at his efforts to get inside the mind of a killer…
9. Driving Miss Daisy [1989]


An elderly Jewish widow living in Atlanta can no longer drive. Her son insists she allow him to hire a driver, which in the 1950s meant a black man. She resists any change in her life but, Hoke, the driver is hired by her son. She refuses to allow him to drive her anywhere at first, but Hoke slowly wins her over with his native good graces. The movie is directly taken from a stage play and does show it. It covers over twenty years of the pair's life together as they slowly build a relationship that transcends their differences.
10. Street Smart [1987]


Way back in the mid-'80s there was this solid but not astonishing crime thriller called 'Street Smart,' which starred Christopher Reeve, Mimi Rogers, and Kathy Baker. Oh, and Morgan Freeman as an angry pimp called "Fast Black." Sounds a little strange? Perhaps. But Mr. Freeman earned an Oscar nomination for it.

Although we cannot cover all the great roles played by him, here's wishing The God a Happy Birthday!