Goa is famous for being the hippie paradise of India offering the best of beaches and parties. There's a lot more to Goa than you think (exploring goa). Check out the compilation of some of the places you can explore on your next trip to Goa.
1. Agonda Beach – Agonda [Sights – Beaches]
Agonda beach is simply divine; wide, quiet and picturesque. Its not crowded like Baga & Colva beach. This is not, however, the place for a leisurely swim; the beach shelves steeply at high tide and the surf can be rough, but for a sunset walk or a long lazy day, Agonda encapsulates romantic Goa at its very best.
2. Café Lilliput – Anjuna [Entertainment – Nightlife]
One of those Beach shacks where the party keeps going till the wee hours of the morning. Good location and the waves hit closest to the shack compared to most beaches in Goa. This place is a bit louder in terms of ambiance.
3. Curlies – Anjuna [Entertainment – Nightlife]
You will find Curlie's at the southern end of Anjuna beach. Curlies mixes laid-back beach-bar vibe with sophisticated night spot – the party nights here are notorious. There's a parachute silk-covered rooftop lounge bar and an enclosed late-night dance club.
4. Purple Martini – Anjuna [Entertainment – Nightlife]
Good food. Good ambiance. Good service. Just sit down, enjoy the view and have a sundowner cocktail.
5. Shiva Valley – Anjuna [Entertainment – Nightlife]
Located right next to Curlies, Shiva Valley is filled with 'firangis' getting high on psychedelic/trance music. No bollywood music here unlike the rest of the shacks on the beach. Visit this place for the vibes and the crowd. You're sure to make new friends here!
6. Burger Factory – Anjuna [Restaurant – Burgers]
The straightforward menu is chalked up on a blackboard at the side, and though the burgers aren't cheap, they are interesting and expertly crafted and they're HUGE! Make sure to have a bite at this legendary Burger Joint of Goa!
7. Artjuna Cafe – Anjuna [Restaurants – Cafe]
Along with all-day breakfast, outstanding espresso coffee, salads, sandwiches and Middle Eastern surprises like baba ganoush, tahini and felafel, this sweet garden cafe has an excellent craft and lifestyle shop, yoga classes and one of Anjuna's best noticeboards. Great meeting place. Artjuna is on the way to Anjuna beach. As the name suggests there is an art shop surrounded by randomly placed tables around the beautiful Goan greenery.
PS: They Do Not Serve Alcohol
8. Oxford Stores – Anjuna [Shopping – Food & Drinks]
The huge Oxford Stores, 100m from the Starco crossroads on the road to Vagator, is a fully fledged supermarket, complete with shopping trolleys and checkout scanners. It's an awesome place to stock up on toiletries, cheap booze and all those little international luxuries.
9. Anjuna Flea Market – Anjuna [Shopping – Markets]
Anjuna's weekly Wednesday flea market is as much part of the Goan experience as a day on the beach. More than three decades ago, it was conceived and created by hippies smoking jumbo joints, convening to compare experiences on the heady Indian circuit and selling pairs of Levi jeans or handmade jewelry to help fund the rest of their stay.
You might still find Westerners trading goods and services (tattoos, piercings and the like) but it's much more a souvenir market. Despite changes over the years, the market shows no sign of waning in popularity, so dive in and enjoy the ride. The best time to visit is early (from 8am) or late afternoon (around 4pm till close just after sunset). The first market of the season is around mid-November, continuing till the end of April.
10. Arambol Hammocks [Shopping – Homeware]
At the north end of the main beach, Arambol Hammocks designs and sells hammocks, including their 'flying carpets' and 'flying chairs.' You can also organize paragliding from here.
11. Glastonbury Street – Arambol [Shopping – Streets]
Everything beaded, mirrored, embroidered and embellished is to be found on the stretch of sandy lane winding down to the beach that British festival-going visitors refer to as 'Glastonbury Street'. Here, stalls jostle shoulder-to-shoulder to sell you everything Indian, so haggle hard to fill your bag with bright and beautiful bed spreads, bindis, bidis (local, hand-rolled cigarettes) or bongos to take back home.
12. Arambol Beach – Arambol [Sights – Beaches]
Arambol Beach is a traditional fisherman village, located approximately a one-hour drive from the Dabolim Airport. The beach attracts many international tourists, mainly during the winter season between November and March.
13. Arossim Beach – Arossim [Sights – Beaches]
Quiet and clean, Arossim, like Velsao, is a good place to settle into solitude with a good book. Here, the simple Starfish Beach Shack is the only place for drink or lunch, and its sunbeds and beach umbrellas occupy a very quiet patch. To get to the beach, follow signs for the Heritage Village Club, and then hop across the sandbags over a rather desultory creek.
14. Our Lady of Remedios Chapel – Arossim [Sights – Religious]
It's the views, rather than the plain little chapel itself, that should entice you to take the steep road east off the coastal road up to Our Lady of Remedios at the top of the hill. On clear days, you'll have a gorgeous, camera-clicking view south along the calm, quiet sands – as long as you studiously ignore the uglier northerly and easterly views up towards the monstrous fertilizer factory and surrounding industrial sprawl.
15. Rachol Seminary & Church – Around Margao [Sights – Religious]
Built in 1580 atop an old Muslim fort, the Rachol Seminary and Church stands near the village of Raia, 7km from Margao. Although it's not officially open to visitors, you'll likely be able to find a trainee priest to show you around its beautiful church and cloistered theological college.
The seminary, built by the Jesuits, soon became a noted centre of learning, graced with one of India's first printing presses. Among the seminary's most famous members were Father Thomas Stevens, who by 1616 had busily translated the Bible into Konkani and Marathi, to help with the conversion of the locals, and Father Ribeiro, who produced the first Portuguese-Konkani dictionary in 1626.
Work on the church (dedicated to Jesuit founder St Ignatius Loyola) began in 1576, four years before the founding of the seminary, and it has been maintained in excellent condition. Its splendid gilded reredos fills the wall above the altar, featuring an image of St Constantine, the first Roman emperor to convert to Christianity; fragments of St Constantine's bones are on display near the main doorway. One of the side altars also displays the original Menino Jesus, which was first installed in the Colva church, before being taken up to Rachol amid much controversy.
16. Sahakari Spice Farm – Around Ponda [Sights – Farms]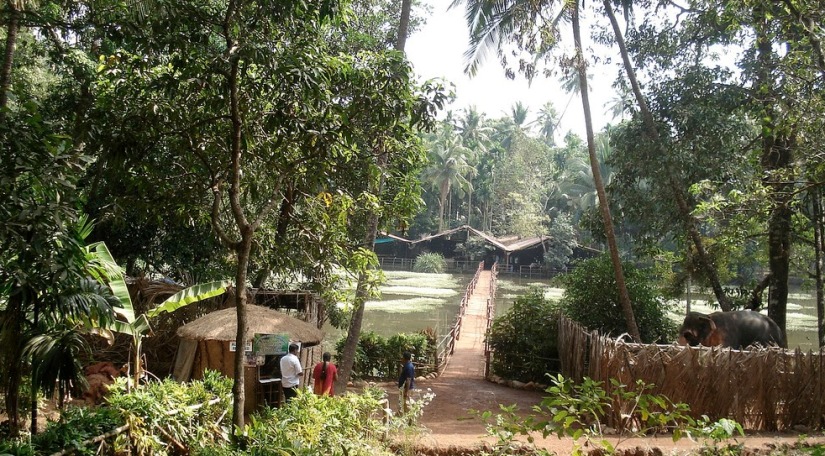 This well-touristed farm just 2km from Ponda, near the village of Curti, is also a good place for elephant rides and elephant bathing in the small river.
17. Savoi Plantation – Around Ponda [Sights – Farms]
This 200-year-old plantation, 12km north of Ponda, is the least touristy, elephant-free and the cream of the crop in the region. You'll be welcomed with fresh pomegranate juice, cardamom bananas and other organic treats, and find knowledgeable guides keen to walk you through the 40-hectare plantation at your own pace. Local crafts are also for sale and there are a couple of cottages for overnight stays.
18. Tropical Spice Plantation – Around Ponda [Sights – Farms]
Accessed via a bamboo bridge, around 5km north of Ponda, this is one of the most popular farms with tour groups and visitors. An entertaining 45-minute tour of the spice plantation is followed by a banana-leaf buffet lunch. Elephant rides/bathings are available for an extra ₹700.
19. Caves of Khandepar – Around Ponda [Sights – Natural Landmarks]
In the village of Khandepar, 5km northeast of Ponda, and set back in the dense forest behind the Mandovi River, are four small (well-hidden) rock-cut caves believed to have been carved into the laterite stone around the 12th century, though some archaeologists date their origin back as early as the 9th century. These are among Goa's oldest remaining historical treasures, but were only rediscovered in 1970. Ask around locally for the exact whereabouts of the caves – someone will eventually point you in the right direction.
Thought to have been used by a community of Buddhist monks, each of the four caves consists of two simple cells, with tiered roofs added in the 10th or 11th centuries by the Kadamba dynasty who, it's thought, appropriated the caves and turned them into Hindu temples. The fourth cave supports the Buddhist theory, containing a pedestal used for prayer and meditation. There are also niches in the walls for oil lamps, and pegs carved for hanging clothes. The first cave, meanwhile, has a lotus medallion carved into its ceiling, typical of the later Kadambas.
20. Butterfly Conservatory of Goa – Around Ponda [Sights – Nature & Wildlife]
Also called Mystic Meadows, this small butterfly sanctuary, 5km north of Ponda, houses more than 100 species of free-flying butterflies (i.e. it's not enclosed). It's a labour of love for the owners and worth a look if you're visiting nearby spice plantations.
21. Shri Laxmi Narasimha Temple – Around Ponda [Sights – Religious]
Almost immediately after leaving the village of Mardol on the main road, a side road to the right takes you up a hill towards the little village of Velinga and the Laxmi Narasimha Temple, one of the most attractive and secluded temples around Ponda. It's dedicated to Narasimha, or Narayan, a half-lion half-human incarnation of Vishnu, which he created to defeat a formidable adversary. The deity was moved here from the district of Salcete in 1567, and the most picturesque part of the temple is the old water tank, to the left of the compound as you enter, spring-fed and entered via a ceremonial gateway.
Although the temple has a sign by the door announcing that entry is for the 'devoted and believers only,' respectful nonbelievers will probably be allowed to have a look.
22. Shri Mahalaxmi Temple – Around Ponda [Sights – Religious]
Only 4km outside Ponda, and a stone's throw from Naguesh Temple, is the relatively uninspiring Mahalaxmi Temple. The goddess Mahalaxmi, looked upon as the mother of the world, was particularly worshipped by the Shilahara rulers and by the Kadambas, and thus has featured prominently in the Hindu pantheon in southern India. Here she wears a lingam (phallic symbol of Shiva) on her head, symbolising her connection with Shiva.
23. Shri Naguesh Temple – Around Ponda [Sights – Religious]
A short distance further south, in the village of Bandode, is the small and peaceful Naguesh Temple. The most striking part of the temple is the ancient water tank, with its overhanging palms, fishy depths and weathered stones, together making an attractive scene. Also of note are colourful images in relief around the base of the deepastambha, and the frieze of Ramayana scenes running inside along the tops of the pillars. Unlike its neighbours, this temple was in existence well before Albuquerque ever set foot in Goa, but the buildings you see today are newish and rather uninteresting. The temple is dedicated to Shiva, known in this incarnation as Naguesh, and is particularly rich in animal representation.
24. Shri Ramnath Temple – Around Ponda [Sights – Religious]
Though undoubtedly one of Ponda's all-round uglier temples, Shri Ramnath is notable for the impressive and extravagant silver screen on the door to the sanctum. Other temples have similar finery but the work here is exceptional, in particular the two unusual scenes depicted at the top of the lintel. The lower of the two depicts kneeling figures worshipping a lingam, while the upper one shows Vishnu lying with Lakshmi, his consort, on a couch made up of the coils of a snake. The lingam installed in the sanctum was brought from Loutolim in Salcete Taluka in the 16th century.
25. Shri Shantadurga Temple – Around Ponda [Sights – Religious]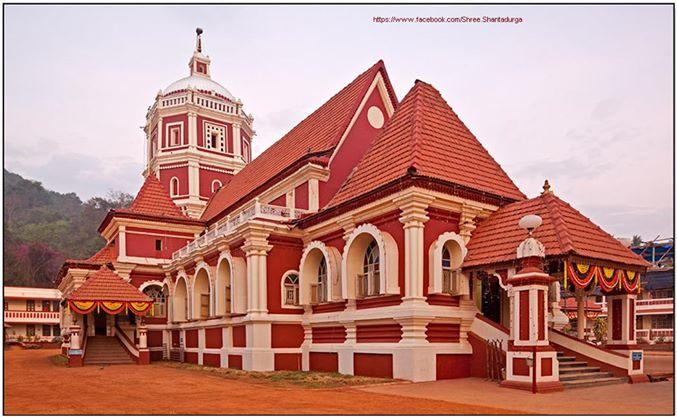 Surrounded by forest and paddy fields, the Shri Shantadurga Temple is one of the most famous shrines in Goa and is consequently packed with those who come to worship, as well as day-trippers brought in by the bus load. Hustle past the rows of roadside hawkers to get a look at this heavily European-inspired creation, built in 1738, 200 years after its deity had been smuggled in from Quelossim, not far from present-day southern Colva.
26. Baga Beach – Baga [Sights – Beaches]
Baga Beach is a popular beach and tourist destination in North Goa. Baga is located at the north end of the contiguous beach stretch that starts from Sinquerim, Candolim, leads to Calangute and then to Baga. Baga Beach is also famous for parasailing, water sports (banana ride) and dolphin cruises.
27. Anjuna Beach – Bardez [Sights – Beaches]
Anjuna beach is a favorite haunt of the hippies who used to organize the famous rave beach parties. It was in the late 1950s to mid-1960s that hippies started visiting Anjuna beach and since then popularized the wild rave parties with trance music which have now become the characteristic features of Goan beaches. Anjuna Beach is also an ideal place for full-moon parties held especially during Christmas and New Year. T
Anjuna is world famous for its trance parties held on the beach during the tourist season.Above & Beyond's record labels, Anjunabeats and Anjunadeep, as well as their radio show, 'Anjunabeats Worldwide,' all make reference to Anjuna. In 2009, they also released a track called 'Anjunabeach.'
28. Club Zoya – Benaulim [Entertainment – Nightlife]
The party scene has hit sleepy little Benaulim in the form of barn-sized Club Zoya, with international DJs, big light shows and a cocktail bar featuring speciality flavoured and infused vodka drinks. Something's on most nights here in season but check the website for upcoming events and DJs.
29. Benaulim beach – Benaulim [Sights – Beaches]
This beach is situated in south Goa near Margoa town. the place is very less crowded and next to The Fern Beira Mar Resort. If you want calm and relaxed atmosphere outside the hustle and bustle of some areas of Goa this is ideal. It's quiet hassle free and beach quality excellent. Plenty of beach shacks all with free sun beds etc. Great place to switch off.
30. Goa Chitra – Benaulim [Sights – Museums & Galleries]
Artist and restorer Victor Hugo Gomes first noticed the slow extinction of traditional objects – from farming tools to kitchen utensils to altarpieces – as a child in Benaulim. He created this ethnographic museum from the more than 4000 cast-off objects that he collected from across the state over 20 years (he often had to find elderly people to explain their uses). Admission to this fascinating museum is via a one-hour guided tour, held on the hour. Goa Chitra is 3km east of Maria Hall – ask locally for directions.
31. Betelbatim Beach – Betelbatim [Sights – Beaches]
Betelbatim's sands, just to the north of Colva, are a good example of what difference a few hundred metres can make, as calm, quiet and pastoral as Colva's are touristed and dust-blown. Betelbatim itself consists of several different smaller strips of beach – try Lovers' Beach, which is suitably lovely and deserted enough for a spot of romance. To get to Lovers' Beach, follow the signs from the main coastal road, passing a less lovely rash of timeshare holiday-apartment buildings on the way.
32. Goa Diving – Bogmalo [Activities – Water Sports]
Mainland India's original dive operator, with 25 years experience, Goa Diving is an internationally respected outfit and a good place to earn your PADI certificate. It has an office on the road into Bogmalo but usually maintains a booth at the southern entrance to the beach in season.
It offers all the PADI courses, from Open Water to Divemaster, and runs dive trips to nearby Grande Island (where you can explore the remains of the British-built SS Mary ), and Pigeon (Netrani) Island, 85km to the south. Local dives start at ₹3000 for a one-tank dive; four dives plus transfers and one night's accommodation near Pigeon Island is ₹17,000. An introductory dive costs ₹5000, an Open Water course costs ₹20,000. Courses include theory and instruction in a swimming pool.
33. Bogmalo Beach – Bogmalo [Sights – Beaches]
A small and once picturesque bay, now within roaring distance of Dabolim airport, this small stretch of sand makes a decent stop if you've got an hour or two to kill before a flight, or if you're keen to experience Goa's underwater scene, courtesy of its highly respected diving outlet. Otherwise, it's not especially appealing, cramped with ragtag stalls, beach cafes and spluttering busloads of excitable domestic day trippers.
34. Naval Aviation Museum – Bogmalo [Sights – Museums & Galleries]
The Naval Aviation Museum, at the naval base on the road above Bogmalo Beach, makes an interesting diversion if you're interested in ships and planes. Full of men idling about, especially around its Cockpit Cafe, the museum offers a neat and interesting presentation of India's naval history, and its connection to machines of the air.
35. Bondla Wildlife Sanctuary – Bondla [Sights nature & Wildlife]
At only 8 sq km, Bondla Wildlife Sanctuary is Goa's smallest protected wildlife sanctuary. Though not particularly remote, it's really only accessible if you have your own transport or a car and driver. You're unlikely to see animals just by wandering around the sanctuary, though the park's jungly reaches are home to wild boar, gaurs (Indian bison), monkeys, jackals, leopard and deer, but if you're committed it's a butterfly-spotter and birdwatcher's paradise. The sanctuary is about 10km from Usgao village. A one-way taxi here from Panaji should cost around ₹1000, or ₹500 from Ponda.
Bondla has Goa's only zoo, a very small moated offering, which is a bit sad considering it's within a wildlife sanctuary; still, it gives you a look at tigers, elephants, porcupines and snakes. There's also a nature interpretation centre and botanical gardens (neither of which are worth the trip out here in themselves).
There are some Forest Department cottages here if you want to spend the night.
36. Church of Nossa Senhora De Penha De Franca – Britona/Pomburpa [Sights – Religious]
Britona's parish church, Nossa Senhora de Penha de Franca, is a grand old dame, occupying a fine location at the confluence of the Mandovi and Mapusa Rivers, looking across to Chorao Island on one side and to the Ribandar Causeway on the other.
37. Cafe Mambo – Calangute & Baga [Entertainment – Nightlife]
Part of the Tito's empire, Mambo is one of Baga's most happening clubs with an indoor/outdoor beachfront location and nightly DJs pumping out house, hip-hop and Latino tunes. Couples or females only.
38. Cape Town Cafe – Calangute & Baga [Entertainment – Nightlife]
The most laid-back of the Tito's venues, Cape Town has a street-front lounge bar with wi-fi and live sports on big screens, while inside international DJs play until late. Goan food and bar snacks available.
39. Club Cubana – Calangute & Baga [Entertainment – Nightlife]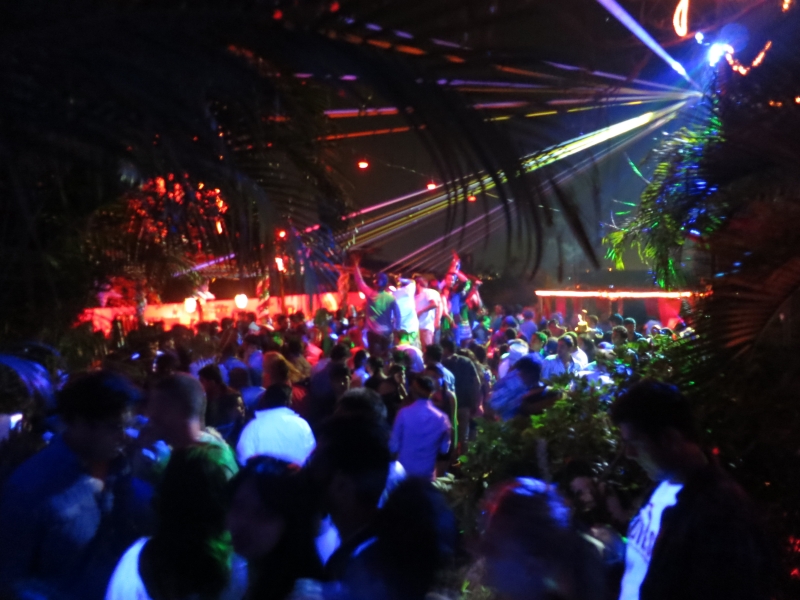 Billing itself as the 'nightclub in the sky,' this hilltop place in Arpora (a few kilometres north of Baga) has been providing a late-night pool party scene for more than a decade. As with most clubs it's couple or ladies only (though solo males can usually pay a premium to get in) and, depending on the night, it's open bar with a cover charge of ₹1000 to ₹2000. Wednesday is ladies night.
40. Tito's – Calangute & Baga [Entertainment – Nightlife]
The long-running titan on Goa's clubbing scene, Tito's has done its best to clean up the locals-leering-at-Western-women image of yesteryear. It's couples or ladies only – solo men can forget it, though partying lads are known to bribe solo ladies to accompany them in.
41. Fiesta – Calangute & Baga [Restaurants – European]
Follow the lamplights off happening Tito's Lane: there's something magical about stepping into Fiesta's candlelit split-level tropical garden. Soft music and exotic furnishings add to an upmarket Mediterranean-style dining experience that starts with homemade pizza and pasta and extends to French-influenced seafood dishes and some of the finest desserts around. Worth a splurge.
42. A Reverie – Calangute & Baga [Restaurants – International]
A gorgeous award-winning lounge bar, all armchairs, cool jazz and whimsical outdoor space, this is the place to spoil yourself, with the likes of Serrano ham, grilled asparagus, French wines and Italian cheeses. Although fine dining, A Reverie likes to style itself as 'fun dining' and doesn't take itself too seriously. On the snack list, check out the Indian taco truck (₹275), wasabi prawns or barbecue pulled-pork rolls.
43. Go With The Flow – Calangute & Baga [Restaurants – International]
Stepping into the fantasy neon-lit garden of illuminated white-wicker furniture is wow factor enough, but the food is equally out of this world. With a global menu leaning towards European and South American flavours, Brazilian chef Guto brings a wealth of experience and culinary imagination to the table. Try some of the small bites (ask about a tasting plate) or go straight for the pork belly or duck ravioli.
If you don't suffer vertigo, check out the 30ft-high dining tower with superb views back over Baga Beach.
44. Literati Bookshop and Cafe – Calangute & Baga [Shopping – Books]
A refreshingly different bookstore, in the owners' South Calangute home, and a very pleasant Italian-style garden cafe. Come for a fine espresso and browse the range of books by Goan and Indian authors as well as antiquarian literature. Check the website for readings and other events.
45. All About Eve – Calangute & Baga [Shopping – Fashion & Accessories]
Attached to Karma Collection, All About Eve stocks unusual clothes, bags and accessories, many designed by the owners themselves and which are unlike any of the usual array you'll find on a beach-road stall.
46. Mackie's Saturday Night Bazaar – Calangute & Baga [Shopping – Markets]
Colourful Saturday night market on the Baga River with music, entertainment, shopping and food stalls.
47. Casa dos Proença – Calangute & Baga [Sights – Architecture]
Casa dos Proença is a grand mansion built in the early 18th century by Calangute's then-wealthiest family. You'll notice the grand, tower-shaped verandah, screened off with oyster-shell windows, while the mansion's pitched roof was designed to create a natural air-conditioning system, channeling in cool air from the building's doors and windows.
48. Old Customs Post – Calangute & Baga [Sights – Architecture]
A relic of Calangute's past can be found at the old customs post, at the market crossroads. Several of these posts were built during Portuguese rule to monitor the coming and going of goods, and to deter smuggling.
49. St. Alex's Church – Calangute & Baga [Sights – Religious]
St Alex's Church has a magnificently golden and ornamented reredos (ornamental screen) and pulpit.
50. Cola Beach – Canacona [Sights – Beaches]
This is an unexplored beach in south goa, a bit off the track. This beach is hard to reach but offers the most beautiful scenery. This beach has a very beautiful fresh water lagoon on one side and sea on other.
If you like my posts, share and comment on right section of the page!
For Part II stay tuned and like us on Facebook here
Cheers and Enjoy! 😀